Gothic Bands
Gothic Bands
Written by Lore
Saturday, 16 May 2009 09:40
Nosferatu
English Goth Rock act.  Putting this article in as a place holder after finding this excellent band history.  One of the amazing things about Nosferatu is the quality of all the different singers they have had.  Louis DeWray was excellent at WGT 2006 and is back again I understand for this years WGT 2009.
Band History
http://www.soundclick.com/bands/default.cfm?bandID=209098
Upcoming Gigs
Wave Gothic Treffen
1st June 2009
Parkbühne - 7:45pm
External Links

MySpace: http://www.myspace.com/officialnosferatu
Last Updated on Saturday, 16 May 2009 09:49
Saints Of Ruin mixing first full-length CD
Gothic Bands
Written by Thomas Jordan
Tuesday, 05 May 2009 08:20
The Saints Of Ruin will complete their first full-length CD "Nightmare" this May. The 11 track album contains dark rock themes with a metal edge and features Ruby Ruin's powerful, melodic voice. The songs range from hard-driving Ashes to the slow and haunting End Of Days. With a good measure of dance songs like
Be My King, one cabaret noir track called The Halloween Song and a Concrete Blond cover of Bloodletting this collection is deservedly gaining attention from a wide berth in the goth community. The Saints are currently negotiating with UK, European and US labels.
The Saints are based in San Francisco and are scheduled to play with Thrill Kill Kult in May and several local shows to warm up for touring. Watch for the Saints of Ruin on tour this Summer in Los Angeles, San Diego, Las Vegas and in fall in Sweden, Finland, Italy and the UK and then New Orleans for Halloween (heads up Endless Night and Vampire Lestat Ball attendees!).
Saints Of Ruin are a modern Goth-Rock band, combining powerful melodic vocals and mysterious lyrics with elements of metal guitars and electronic undercurrents.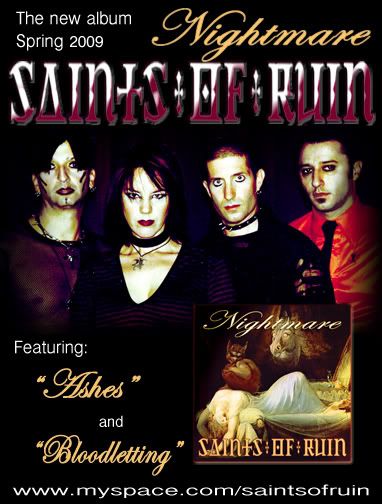 Ranked MySpace Music's Number 1 unsigned Goth band in California and Number 3 unsigned Goth band in the world…October 2008

Here's what the press are saying:

"….a modern Goth-Rock band that has been masterfully pumping out dark industrial rock since mid-2007. "
Revolver Magazine -August 2008
"Saints of Ruin are a truly amazingly powerful rock band with a truly amazing female singer in Ruby Ruin."
Insomnia Magazine -July 2008
 "…Record labels had better start forming an orderly queue here, to avoid disappointment! 9/10"
RavenHeart Music -May 2008
"An INCREDIBLE Gothic band with superstardom to be had all over them." 
Grave Concerns Magazine -March 2008
 "Extraordinary one of a kind Gothic Rock band that will take the world by storm."
My Gothic Life Magazine -March 2008
 
www.myspace.com/saintsofruin
Last Updated on Tuesday, 05 May 2009 16:06
Gothic Bands
Written by Jacqui Vixen
Friday, 13 February 2009 07:54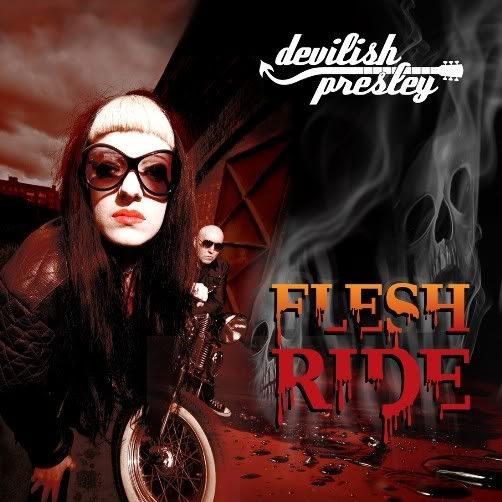 Ladies and gentlemen, please welcome Devilish Presley: purveyors of finest quality barnstorming, freeway-scorching, ripped-up, stripped-down, get-outta-town rock 'n' roll.

Here they come, with a bucketload of attitude and ten strings between them. Jacqui Vixen on bass, Johnny Navarro on guitar, and Elvis the drum machine kicking the backbeat around. That's all you need to get the Devilish Presley party started. This is a band that grabs all that is gonzoid and gung-ho about rockabilly, glam, punk and blues, stuffs the lot into a liquidiser and uses the resulting brew to fuel their own rock 'n' roll rocket. Add a slug of horrorshow firewater, set a match to the fuse, and stand by for blasting. If you've got a rock 'n' roll soul, you're going to like the fireworks - and you'll love the band's rumbustious racket.

Devilish Presley have an uncompromising independent ethic, and a relentless touring schedule that has taken them from their own stamping ground of London's east end to the murkiest rock clubs of Europe. They've shared festival stages with bands such as punk heroes The Damned and psychobilly godfathers The Meteors. They're a band on a mission to win hearts, minds and brains wherever there's a moshpit that needs to be ignited.

Now Devilish Presley's new album - the gloriously rowdy fifteen-tracker Flesh Ride, released on the band's own November Tenth label - is available on iTunes, giving wired-up rockers anywhere on the planet the chance to download a nugget of the Devilish Presley experience from the comfort of their own homes. But the band aren't just burning rubber on the information superhighway. Jacqui and Johnny are about to hit the real life road on their latest UK tour, a nine-date blast that's sure to lay a sulphurous trail of righteous rock 'n' roll smoke up and down the motorways of old England.

Fancy a Flesh Ride? Devilish Presley are going your way. Jump on board - and hang on tight.

UNCLE NEMESIS 2009
Flesh Ride Out Now On iTunes  

file:///C:/DOCUME~1/devil/LOCALS~1/Temp/Flesh%20Ride,%20Devilish%20Presley%202.url
http://www.devilishpresley.com 
http://www.myspace.com/devilishpresleynovembertenthrecords 
Last Updated on Friday, 10 April 2009 22:16
Gothic Bands
Written by Lore
Sunday, 26 October 2008 19:48
IKON
Australian Gothic Rock
Like other inspired musical pairings, Chris McCarter (vocals, guitar, programming) and Dino Molinaro (bass) began to create music as high school students in 1988 and are still recording and performing together. In 1991, the original moniker Death in the Dark was replaced by IKON and seventeen years later the Australian band's distinctive blend of post-punk, rock, and darkwave elements has gained a devoted international following.
Last Updated on Tuesday, 11 November 2008 05:58
Read more... [Ikon]
{include_content_item 28}